Flats fishing for permit is addictive. The rush as a big permit swims over to inspect your crab pattern and after what seems like an eternity, inhales it, is hard to beat.
But more than any type of fly fishing, permit fishing relies on a proper tapered leader. It has to be long enough to not spook this most flighty of fish species, clear enough not to be seen and constructed so that it can turn over large crab flies even in strong winds.
Here in the diagram below, we've summarized the instructions for tying a great permit leader based on the ratios set down by saltwater fishing ace Lefty Kreh.
Permit Leader Formula Diagram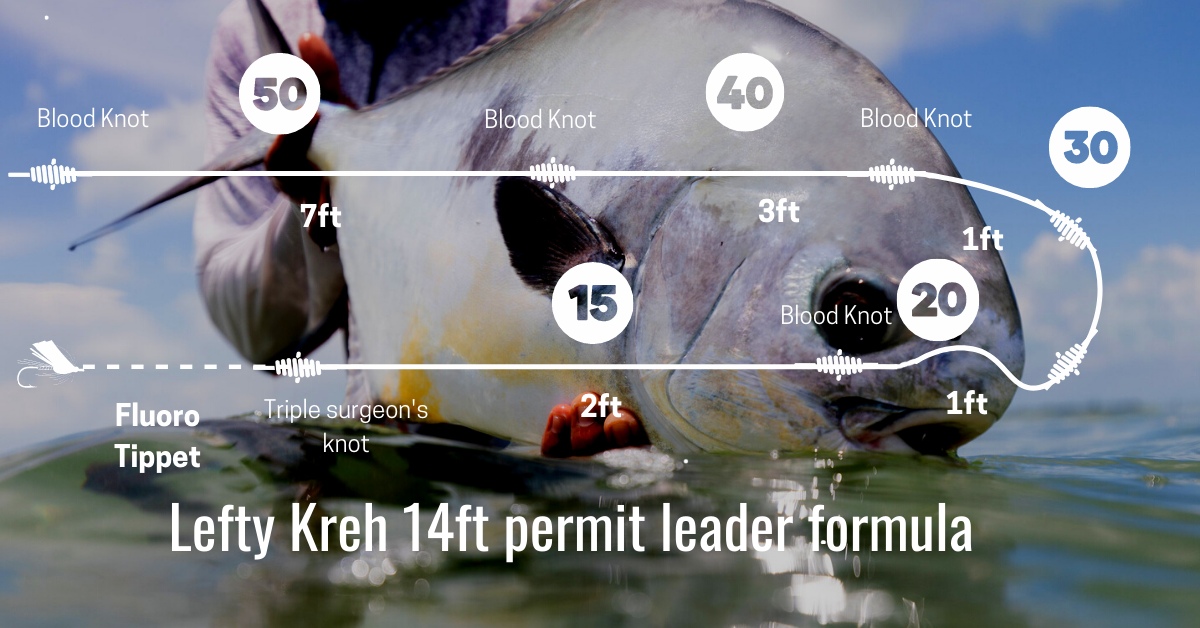 Here (and in the image above) is the length and pound strengths of the line segments used to make up a 14ft permit leader:
7ft of 50lb mono
3ft of 40lb mono
1ft of 30lb mono
1ft of 20lb mono
2 ft of 15lb mono
Fluorocarbon tippet
How to Make Your Own Permit Leaders
Cut the sections
Cut the sections of mono as indicated in the list above or the diagram
Join the sections
Join the sections using double blood knots taking care to lubricate the knots with saliva before cinching them up. Be sure to cinch each blood knot up tight under strain and then trim the tag ends close to the knot.
Add the tippet
Add your fluorocarbon tippet material using a triple surgeon's knot. This knot is better than the blood knot for a fluoro/mono connection as it allows the mono to swell as it absorbs water without the fluoro line cutting into it and weakening it. Use a class tippet if you are chasing an IGFA record!
Sort out the connection to the fly line
Use the perfection loop knot or another loop knot to add a loop to the butt end of your tapered leader if you are attaching it to your fly line with a loop to loop connection.
FAQs: Permit Leader Formulas
Can you make these leaders longer or shorter?
Yes, you can increase or decrease the length of these fly fishing leaders to suit your preferences. As long as you adjust the length of each section by the same percentage when you make your own leaders, you will be keeping the proportions. That's important as this tapered leader is designed to transfer the energy from the cast and unfurl your leader in a variety of conditions.
Length is important for permit leaders and it always a trade off. The longer the better from the point of view of avoiding spooking a trophy permit. But you also want to be able to slip the fly off the guide and fire off a quick cast if a fish swims into view. So to facilitate that, it is good to be able to hook the fly on one of the top few guides on your fly rod and run the leader back behind the reel seat and still have at least six inches of fly line out the top of the top guide on the fly rod.
This makes it easy to get line out by false casting to give yourself a shot at a fast approaching permit.
A total leader length of about 14ft allows for that.
Can I use all fluorocarbon to make my own leader?
You can, but with leaders this thick it is not recommended because 50lb and 40lb fluorocarbon is a bit too stiff to make a leader that unfurls correctly.
What about fly fishing leaders for other flats species?
This tapered leader is specifically designed for permit. Check out our article on bonefish leaders for a tapered fly fishing leader designed specifically for that species.
We are sorry that this post was not useful for you!
Let us improve this post!
Tell us how we can improve this post?