It's hard not to love those days when the weather and water are finally warm enough to wet wade. No more sweaty and clunky waders and wading boots. We can enjoy the beautiful weather and fishing conditions with some wet wading shoes, a swimsuit, a fishing shirt, and a hat.
Depending on your preferences and style, there is a wet-wading shoe for you. Throughout the article, we'll provide you with what we believe are the 10 best wet-wading shoes on the market.
What Is a Wading Shoe and What Types Are There?
A wading shoe is something anglers wear when they're fishing in and out of the water. They're shoes with built-in drainage systems that allow water to pass in and out of them. Generally, wading shoes have rugged features that are perfect for slippery rocks, sharp objects, and challenging terrain.
The three types of wading shoes are wading shoes, wading boots, and wading booties. Each serves its own purpose and works in different situations.
Best Wet Wading Shoes for Fly Fishing: Quick Picks
Best Overall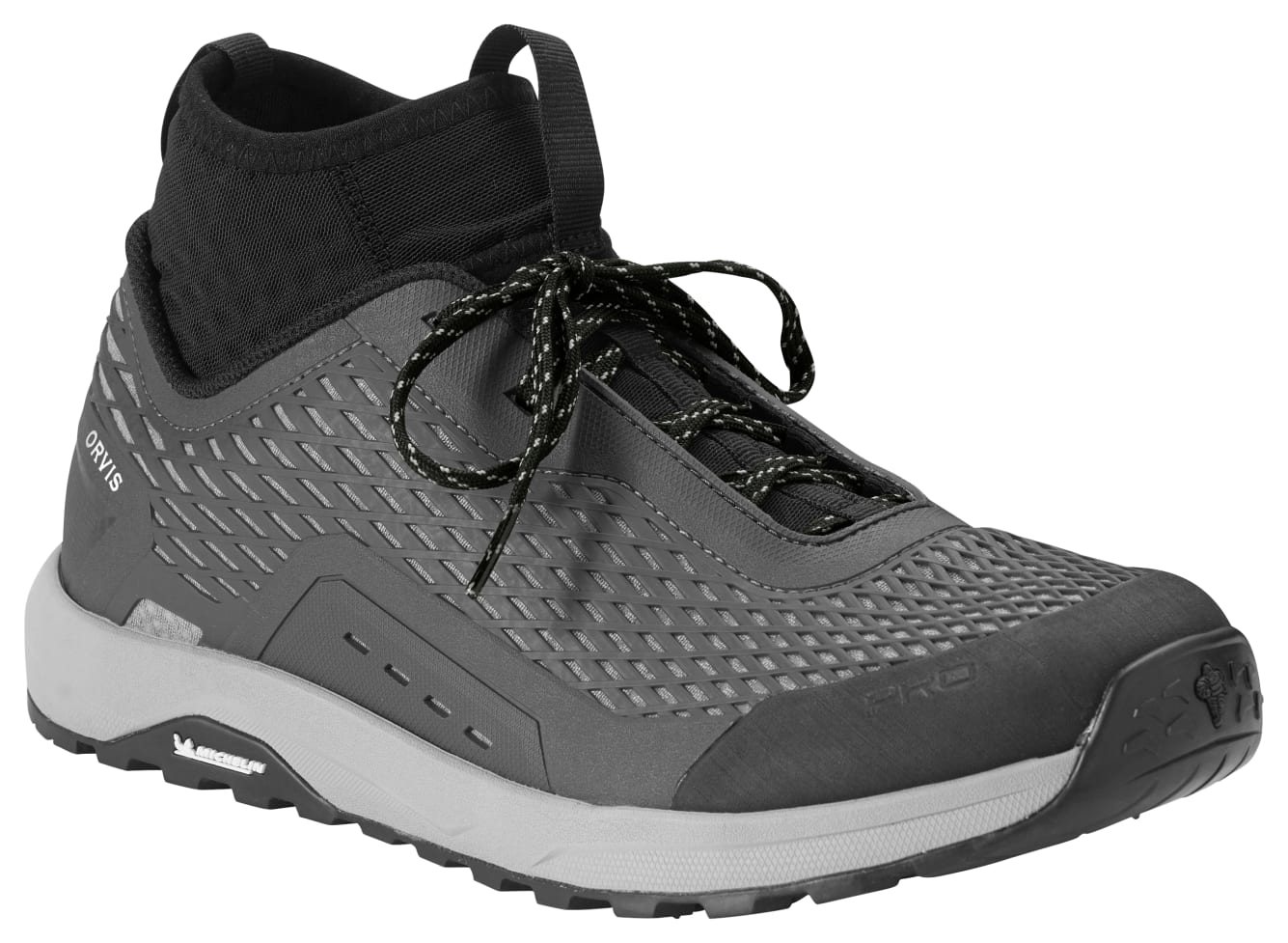 The Orvis Approach Wading shoe is the best wet wading shoe on the market. As long as you wear thin neoprene socks, you'll find that they can thrive in all situations. They have thick rubber soles, a built-in sock to prevent materials from entering, and an integrated lace hood.
Best for Slippery Rocks
The Simms M's Flyweight Wet Wading Shoe is ideal for those "butter rocks." They're built like hiking shoes with all of the necessary materials to thrive in the water. Strong rubber soles and thick spikes will keep you safe despite slippery rocks.
Best for Flats Fly Fishing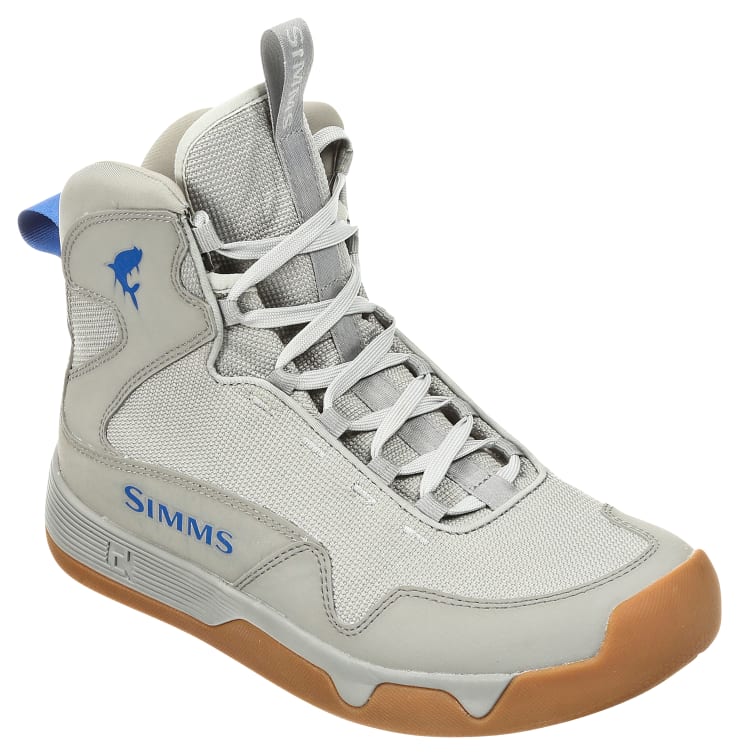 The Simms Flats Sneakers changed the game for flats anglers. The gum rubber outsoles are great for wet conditions and the strong sidewalls will keep you protected against shells, coral, and all of the other dangerous things on the ocean floor.
Best Wet Wading Shoes: Full Reviews
Our Score
For years, anglers had issues with how wet wading shoes were designed. Many of them were uncomfortable boots or loose sandals. Simms was then able to combine the best parts of wet wading boots and wet wading sandals into one. They created the Simms Flyweight Wet Wading Shoe. It's a hiking shoe design with a variety of necessary features. It's a comfortable shoe designed to be worn with or without a knit sock. They're extremely supportive, so it doesn't matter if you're walking on slippery rocks or through mud, they're going to last. At $180, you're going to be making an investment, but they're going to last.
Synthetic boot upper
Rubber Sole
Web lacing system for more of a lightweight feel
Our Score
For anglers who want to cover as much ground as possible, the Salomon Amphib Bold 2 is your best bet. You can run long distances in these throughout all different types of terrain. These shoes are going to work exceptionally well for creek hopping and adventures along rivers with trail systems running through them. One of the most unique features is the collapsible heel. These can work as a slide for a more casual fishing experience and you can also use the lace system to keep things secure in more challenging terrain. At $100, you're getting a unique shoe that's perfect for those warm days on the water.
Quick-drying sockliner removing the need for socks
Drain holes
Fully mesh with quick lace system for ease of use
Our Score
The Orvis Pro Approach Wading Shoe is another great option for wading shoes. They have a resemblance to traditional gym shoes. Beware, you're going to want to wear thin neoprene wading socks with these. They come with a built-in sock, but that sock will rub away at your skin without your own neoprene sock. The built-in sock is great for preventing rocks and other debris from entering your shoe. The rubber soles and abrasion resistance makes these ideal for a variety of types of weather and occasions. Feel free to tackle mountains, valleys, and every sort of terrain with the Orvis Pro Approach. At around $170, you'll be getting a great pair of shoes for your wet wading adventures.
Removable 3D molded OrthoLite insole for premier comfort
Integrated lace hood
Lightweight seamless PU cage construction
Our Score
The Simms Flats Sneakers are the definition of ultralight wading boots. Fly anglers who spend most of their time in saltwater areas should choose these. They are made with durable, saltwater-friendly materials, so you don't have to worry about them ruining over a period of time. Plus, the high-top design of these boots prevents you from injuring your ankles or having any unnecessary debris from entering your shoe. Be aware, these are a bit flatter a shoe, so you may not have as much support as you would like. Whether you're on the boat or trekking through the flats, these are worth the $180.
Removable Right Angle footbed for a secure underfoot ride
Gum rubber outsoles for wet rubber traction
Nonabsorbing foam lining with synthetic face
Our Score
Depending on the anglers you speak with, they may say these are the best wet wading shoes on the market. Regardless of the wet wading gear you prefer, you should strongly consider these. These are low-top shoes that are perfect for all sorts of adventures. You can wander over slippery rocks, gravel bottoms, and every other surface without worrying. Wear these with or without socks and you'll be comfortable. Plus, they're extremely durable. ASTRAL sewed the soles into the uppers instead of gluing them. The upper is entirely mesh, so if you're in consistently cold water, you may want a thin neoprene sock. Plus, at $110, you'll have one of the most affordable options on the market.
Wider toe-box for more comfort
Sticky G rubber outsoles
Improved lacing system for more comfort
Our Score
Merrell is one of the most reputable companies for adventure shoes. The Blaze Sieve shoes are some of the most durable on the market. They have a full-grain leather upper that gives your feet some support if you happen to be working your way through slippery situations. The Vibram rubber soles are what Merrel is known for, and these shoes are equipped with them. The sides of these shoes do have holes for draining, but they're a bit large. Anglers have been known to get the occasional rock in their feet while out on the water. However, the strong design is well worth the occasional rock. At less than $100, you're getting a phenomenal deal.
Easy integrated lacing system
Neoprene stretch collar for easy on and off
Kinetic Fit BASE removable contoured insole for flexible support
Our Score
The Orvis Christmas Island Bootie doesn't seem as if it'd be able to withstand saltwater conditions due to its sock-like appearance. However, they're well-known to be able to stay comfortable when walking over coral, shells, and even urchins. Many anglers choose to wear these booties with thick hiking socks or other socks to add to the comfort. You'll still feel the water through your feet, but you won't get other things like rocks and sticks messing with your experience. At less than $100, you're getting yourself a great deal on some boots that are going to last for years.
Made of Airprene and rubber
YKK size zipper secured by hook-and-loop tab
Go 8 inches up your leg
Our Score
The ForEverlast Ray Guard Reef Wading Boots are a similar design to the Orvis Christmas Island Bootie. They work great in salt and freshwater conditions. The soles are made of 4 layers of vulcanized rubber, so you can walk over shells, sharp rocks, and a variety of other terrains without feeling much. The high-top boot provides some ankle support, and it also prevents any materials from entering the shoe. There's a venting system that lets water in and out of the shoe. At around $50, you're getting a phenomenal deal for wading shoes.
Hook-and-look cuff closure with added zipper
Built-in studs
Vulcanized rubber is exceptionally strong
Our Score
The Simms ZipIt II Flats Booties are another sock-like design that's perfect for saltwater fishing. You can spend time fishing the surf or going through flats and be protected from all the sharp and protruding objects that you would find along the way. Anglers often wear a light liner sock to keep themselves even more comfortable and protected. Simms has done a great job designing these booties to protect anglers from every possible challenge that saltwater can throw their way. At $120, you'll have a pair of booties that are going to last years.
YKK locking corrosion-resistant zipper
Full-length BiFit lasting board for puncture resistance
Perforated neoprene upper with vulcanized rubber overlays
Our Score
The Chaco Z/2 Sandals are some of the most durable and comfortable wet-wading shoes available. Anglers who spend time fishing quite a bit in warmer water areas will use these. They are open sandals with a few straps running over your feet, but no other protection. So, if you're operating in areas with sharp rocks and other challenging materials, you may want to consider a different type of shoe. You can count on these to last years despite the wear and tear you may put on them. Plus, they're generally the best-looking shoe on this list. You can wear them on and off the water. At $100, you're getting an extremely versatile wet wading shoe.
Polyester jacquard webbing upper wraps
3mm rubber ChacoGrip
Injection-molded ladder lock buckle
Buyers Guide: What Makes a Good Wading Shoe
Many anglers take a pair of their current shoes and try to make them work for a wading shoe. This shouldn't be the case. A good pair of wading shoes cannot be replaced. They're breathable, and comfortable and give you all of the necessary traction for you to stay safe while you're out chasing fish.
Type: Wading Shoes vs Boots vs Booties
The first decision many anglers have to make is if they're going to choose wading shoes, wading boots, or booties.
Wading shoes are ideal for anglers looking to cover ground. Generally, companies make wading shoes with similar designs to hiking shoes. They have strong rubber soles with decent protection on the sidewalls. So, if you're hiking in for a day of creek fishing in the mountains, or strolling along the bank of a lake, wading shoes are made for people to cover ground. Many anglers choose to wear a pair of athletic socks and neoprene socks with their wading shoes. These socks will ensure your feet stay comfortable throughout the day, and prevent your feet from getting too cold in those especially frigid waters. Whatever distance you need to cover, a nice set of wading shoes will do the trick. Beware, you may find yourself bumping your ankles on rocks and may not have as much protection as you would with wading boots,
Wading boots are generally meant to be worn with waders or a pair of high neoprene socks. They're a bit clunkier and the most durable option. You'll have a strong lacing system and can guarantee that these are going to provide the most protection out of any other type of wading shoe. However, you generally sacrifice a bit of comfort and breathability with wading boots. So, if you're hoping to cover a decent amount of ground and stay comfortable throughout the day, you may want to invest in wading shoes. Wading boots will work well in extremely cold water or fast-moving water. If safety is your main concern, you can't go wrong with wading boots. Now, Simms makes a great pair of saltwater wading boots that aren't as heavy-duty as traditional wading boots. These flats shoes are high topped, but they feel more like heavier-duty shoes.
The final option anglers have are wading booties. Wading booties look like a bit stiffer socks. They have rubber bottoms and are made with neoprene. These booties are favorites for anglers who spend time in the flats or fish off of kayaks. You can easily get in and out of the water with these and still stay protected from any sharp objects on the bottom. Coral and shells don't stand a chance against a nice pair of wading booties.
Grip
Perhaps the most important feature of a pair of wading shoes is the grip level. Depending on how long you've been fly fishing or where you fly fish, you're familiar with the different types of grip: rubber vs. felt.
Rubber soles are a more versatile sole that is great for all types of terrain. You can hike in and out of the water and not have to worry about slipping on any more challenging surfaces. Many companies make these rubber soles with built-in areas for spikes. Spikes add even more grip to your shoes. Even when rubber soles get wet, they do a great job of keeping their grip. Gum rubber is the best type of rubber to wear in slippery conditions.
Felt soles are slowly becoming a thing of the past due to the improvements in rubber soles. For anglers who spend quite a bit of time in extremely slippery conditions, felt soles are great. They grip tightly to the rocks and will keep you safe regardless. Lakes and rivers with algae-covered rocks are tough to traverse, so that's where felt soles come into play. Now, many lakes and rivers have been deemed felt illegal due to their ability to carry invasive species into the water. So, make sure you check your local regulations before you make your purchase.
Drainage or Drying Time
Another feature anglers need to consider is the rate at which their shoes or boots dry. We spend quite a bit of time in and out of the water when we're wet wading. We don't want our feet to stay wet all day long. In order for shoes to properly dry, they need to have a quality drainage system. Whether it's mesh or drainage holes, we need our shoes to quickly dry. Make sure the shoes or boots you purchase have plenty of areas for the water to drain. This will also help when the shoes need to dry at the end of the day. Putting on a pair of wet wading boots or shoes isn't always the most fun way to start the day. These days, most new wading boots or shoes are going to have a high-quality drainage system.
Weight Range
Weight range is something anglers don't always pay attention to when they're purchasing their wading shoes. Grip, durability, comfort, and lacing systems are generally the top priorities and weight can often be forgotten. This shouldn't be the case. Wearing a pair of heavy shoes around all day can lead to fatigue. Make sure you aren't purchasing the heaviest pair of wading shoes you can find. You want them to be fairly lightweight, so you can move around throughout the day and not be dragging by the end. Thankfully, most companies are starting to combine high-quality materials with the more athletic style of shoes. This combination is going to keep you on the water for longer.
Durability
Wading shoes and boots aren't always cheap. Due to the high-quality materials and unique designs, companies charge quite a bit of money for these shoes. As anglers, we want to make sure the investment we're making is going to last. Make sure you stick with one of the abovementioned wading boots or shoes or go with another type that has high reviews. Many of us don't use these shoes every day, so we want to make sure they continue to last through their minimal use.
Lacing or Fastening System
Lacing systems are an underrated part of a wading shoe. Dealing with wet laces all day long is no fun. They easily can come untied and be a hassle to retie. Be careful with the type of lace you choose to use for your wading shoes.
Laces
Traditional laces can work as long as they're a bit more lightweight and short. As laces get wet, they easily untie. Long and wet laces are a hassle to deal with while out on the water. Plus, an untied lace can cause anglers to trip in more dangerous situations.
Velcro and Adjustable Straps
Velcro and adjustable straps are great for wading shoes. If you have these, make sure the velcro and straps aren't stretched to their limit. With the combination of strain and water, they can begin to fail over time. You want your wading boots and shoes to be tight while traversing in the water.
Cinch
For many anglers, cinch systems are their personal favorite. They're durable and extremely easy to use. One quick cinch at the beginning of the day is going to keep your feet nice and snug regardless of the amount of use.
Wet Wading Shoes FAQs
Do Your Feet Get Wet in Wading Shoes?
Yes, your feet are going to get wet in wading shoes. However, if you do choose to wear neoprene socks with your wading shoes, you'll find that you can actually keep your feet dry throughout the day. Some anglers like to feel the water running over their feet as they're wading, so that's an added feature. Make sure you know your comfort level before you hit the water. Bring a pair of neoprene socks just in case.
What Socks Should You Wear Under Wet Wading Shoes?
Some anglers will wear just neoprene wading socks. Other anglers will wear a pair of athletic socks below their neoprene socks. Either will work.
What Do You Wear When Wet Wading?
When wet wading, many anglers will wear a breathable fishing shirt, a swim suit of some sort as well as their wading shoes. When anglers are wet wading, it usually means the water and air temperature are fairly comfortable.
Wet Wading vs Wearing Waders
Wet wading is a freeing experience. You're more susceptible to the elements and the water temperature, so it's best done in warm conditions. Since you're only in wading shoes and a swim suit, it's best if the temperature isn't too warm. Wearing waders is going to protect you from the elements and extremely cold water temperatures. Cold days and cold water call for waders.
We are sorry that this post was not useful for you!
Let us improve this post!
Tell us how we can improve this post?