Whether you're an experienced angler or a beginner, rod choice makes all the difference between landing or losing a fish. Add the challenge of fishing from a tipsy, lightweight kayak to the mix, and things get harder. Choosing a kayak fishing rod is not the same as choosing a deep sea rod or the newest baitcaster to show off on your bass boat. When choosing a kayak fishing setup, you need to consider a few things:
Rod Length – It should be long enough to clear the bow and stern but compact enough to carry and store in the kayak.
Rod Weight – Kayaks have weight capacities. Paddler, paddle, PFD, tackle box, rods and reels, cooler, and other kayak fishing gear can quickly add up. Generally, we are looking for a lightweight rod. A carbon fiber rod will weigh less than a fiberglass rod.
Butt and Grip – A long, straight grip and butt will make it harder to cast from a seated position than a molded, short grip. The extra length of a straight grip also makes it interfere with your PFD when jigging or flipping.
Best Kayak Fishing Rod: Our Top Picks
We reviewed several popular fishing rods to find the best ones for kayak fishing. Factors we looked at included rod length and weight, the versatility of uses, portability, and the best combination of power and action.
Best Overall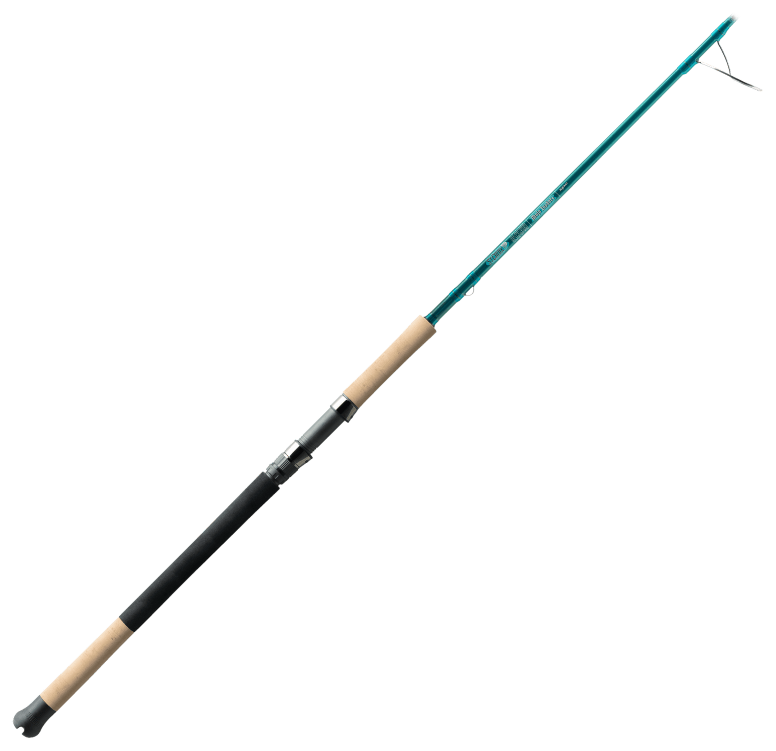 The St. Croix Mojo Inshore rod is a one-piece, lightweight bait caster with medium power and moderate action. This versatile rod, although pricey, outperformed other similar models and is one of the best baitcasting rods for kayak fishing.
Best Budget
For the fisherman who wants a great all-purpose kayak fishing rod without breaking the bank, Shakespeare delivers with their Ugly Stik Elite. This 7-foot-long, one-piece bait cast rod is high quality but inexpensive enough that you won't cry if you flip and lose it - something that's always a possibility for kayak anglers.
Best Ultralight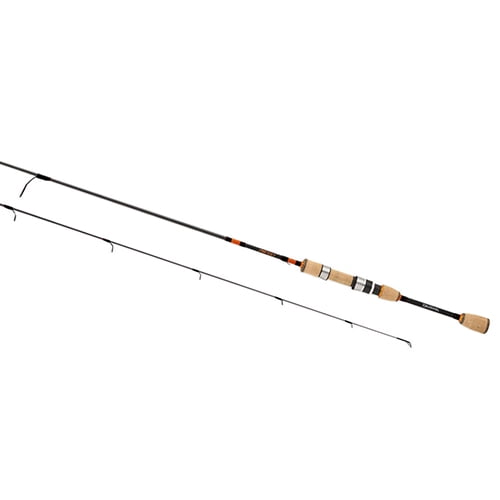 An ultralight rod can make kayak fishing like a roller coaster ride. The flexibility of the rod combined with the fight of a perch or trout is like nothing else. The Daiwa Presso Ultralight is perfect for those lightweight lures and jigs.
Full Reviews – The Best Rods for Kayak Fishing
Our Score
The Falcon Coastal Spinning Rod is designed for saltwater fishing and works great for pulling in redfish and snook. The 6' 6" model weighs just 4.8 ounces. This one-piece graphite rod has a straight cork handle. The medium action rod is limber with a sensitivity tip and can easily handle 8-17 pound test lines and accurately throw ¼-½ ounce lures with ease. Even though it is
Key Features:
Graphite blank
100-Percent Fuji guides
Fuji exposed blank reel seat
Pros
Medium action rod with sensitivity tip
Lightweight at only 4.8 oz. for 6'6"
$$
Cons
Long cork handle could hinder casting
1 piece construction
Our Score
The carbon-wrapped graphite blank of the Okuma Nomad is lightweight and strong. The 7'0" rod breaks down into three easily portable sections that store easily in the included padded, waterproof case. The outstanding feature of the Okuma Nomad is the interchangeable rod tip sections that allow you to adjust the power and action of this quickly medium-fast action rod. The nomad has EVA grips with a locking reel seat. Stainless guides with zirconium inserts allow smooth, fast line travel.
Pros
Each rod comes with two interchangeable tips
Breaks down into 3 sections for easy storage
Carbon wrapped graphite blank is strong and durable
Lifetime limited warranty
Our Score
The St. Croix Mojo is a superb rod for freshwater or saltwater fishing. This one-piece, 7'0" rod comes in a medium power/moderate action model or a heavy power/fast action model for plenty of fishing options. Two coats of Flexcoat finish cover the Elite SCIII carbon blank, creating an attractive and durable rod. The split contoured cork grip includes a locking reel seat and hood keeper. Able to handle a 10-20 pound test line, this rod is sturdy enough to bring in the prize winners.
Pros
Weighs just 4.6 oz
5 year warranty
Stainless steel guides
Cons
One piece construction
$$$$
Our Score
The Trevala Spinning and Jigging rod from Shimano has superior strength and durability due to its T-glass inner core wrapped in graphite. This extremely strong construction creates a kayak fishing rod with medium to medium heavy power and fast action. The one-piece rod is 6'6" and features a sensitivity tip. This lightweight pole has a Fuji reel seat, and Fuji alconite guides with durable wraps. The EVA foam grips are designed for comfort and control.
Pros
Strong yet lightweight
Aluminum oxide guides with alconite inserts
Comfortable EVA grips
Cons
$$$
Recommends Shimano reel
Our Score
Whether you're slow trolling for grouper or bottom fishing for channel cats, sometimes you just need a hefty, stiff rod. That's what the Daiwa Beefstick is. This one-piece, 7'0" rod is made from carbon fiberglass with stainless steel guides. Capable of handling 10-20 pound tests with ease, the Beefstick is stiff and tough. This is not a rod for panfish.
Cons
Very stiff and heavy
Fiberglass
Our Score
The Shakespeare Ugly Stik is one of the best-selling fishing rods of all time. It is also one of the best kayak fishing rods you can get. It is preferred by anglers of all ages and experience levels because it is durable and versatile. The 7'0" Ugly Stik Elite is a one-piece medium light rod with a super sensitive tip so you feel every nibble. The fast action lets you set the hook with ease. The flexible graphite blank has a cork handle and stainless steel guides. Like all the best kayak fishing rods, it is cheap and tough.
Pros
Strong and flexible
Super sensitive tip
$
Cons
1 piece construction
Long cork handle
Our Score
The Shakespeare Micro Spinning Rod is a 6'6" two-piece hollow tube rod. This ultralight model is very bendy and flexible, but the hollow tube will break easily if stressed too much. This light action rod is designed for use with small reels and small lines and lures, making it a great kayak fishing rod for pan fish. It is too limber and weak for catching big fish or bottom fishing.
Pros
Two-piece for portability
Does what it is designed for
$
Cons
Hollow core, rather than solid graphite
Breaks if stressed too much
Our Score
The Daiwa Presso Ultralight is a 6'6" rod that breaks down into 4 sections for easy portability in the included zippered case. A split grip cork handle and rod seat on a graphite blank gives this rod strength you wouldn't expect from an ultralight. Rated for 2 to 6-pound test and baits 1/32 oz to ⅜ oz, this fast action rod is great for trout and sunfish but strong enough for small bass and crappie. 8 smooth, sturdy eyes provide casting accuracy without sacrificing distance. It is one of the best kayak fishing rods for someone who wants portability in a rod that is a step up performance-wise from telescopic rods.
Pros
Ultralight but sturdy - great kayak fishing rod
Easily breaks down into carrying case
$$
Cons
Sections may come apart if not fully inserted
Rated for 2-6# test line
Our Score
There is nothing handier for kayak fishing and overnight camping than a telescopic rod that fits easily into a backpack or ditty bag. The Plussino Telescopic Rod extends up to 8'8" and retracts to 16". The carbon fiber and glass construction creates a sturdy medium power rod that will withstand some abuse. Best used with 10-13 pound test monofilament, this rod handles crappie and bass with no problem but also allows you to reel in the perch and bluegill. Stainless steel guides with ceramic inserts protect your line. The included open-face spinning reel is a nice bonus.
Pros
Folds down for portability – great for kayak fishing rods
Medium power/fast action rod
Includes a spinning reel
$$
Cons
Reel must be detached when storing in case
Can jam when retracting if you don't go in the right order
Best Kayak Fishing Rods: Buyers' Guide
Rod Action
Unless you want to carry five or six rods in your kayak, which is unrealistic, you want a moderate to fast action rod with plenty of sensitivity and moderate flex. For best results when kayak fishing, know what you are fishing for and use the recommended line and lure weights.
Best in Rod Action – Okuma Nomad
With two interchangeable tip sections included, the Okuma Nomad offers anglers options and makes it easier to make adjustments on the fly. Quickly switch from medium to fast action if the fish aren't what you expected or conditions change.
Rod Power
A light to medium rod seems to be the most versatile option for kayak fishing rods. You certainly aren't going to be pulling in giant tuna from your kayak, so you don't need the ultra-stiff backbone of a surf fishing rod.
RECOMMENDATION: The moderate to medium power of the St. Croix Mojo makes it powerful enough to pull in big sheepshead and snapper without excessive flex or play. Combined with a 10-20# test braided line, you have arguably the best kayak fishing rod for catching big fish when you are sea fishing.
Rod Length
Rod length is often a personal preference, but a few important things should be considered when kayak fishing. Too much length will make it difficult to land the fish, but too short a rod will allow the line and hook to get caught on the edges of your boat. For the best kayak fishing rod setup, choose a rod that reaches just beyond the bow and stern of the kayak. A 6'6"-7'6' length seems perfect for a 10-12 foot, 32-36" wide kayak. These shorter rods will usually fit in your rod holder.
RECOMMENDATION: The 7-foot Ugly Stik easily clears the bow and stern of the kayak but is not too long to make setting the hook difficult. What sets this rod apart from the others is not its length but its ability to maintain power even at this length. Often longer rods have too much flex, making it hard to cast accurately. The Ugly Stik is designed for casting, hooking, and landing. It is an overall great rod for kayak fishing.
Grip Configuration
The grip makes a big difference when kayak fishing. Too long a handle makes it hard to cast, hard to land the fish, and gets in the way of your PFD and paddle. Too short a handle doesn't give you the leverage you need to set the hook from a seated position. Grip material also makes a difference. Cork grips don't offer the comfort EVA grips do, but they seem to last longer. Some anglers complain that cork gets slick when wet, while others find it easier to hang on to.
RECOMMENDATION: The split style, slip-resistant EVA, and composite grip on the Plussino is just the right length for kayak fishing. Shorter than most straight handles, it offers a comfortable handhold without getting in the way. Yet, it still offers enough leverage to get the job done and is a good fishing rod for kayak fishing.
Rod Material
If you are looking for a long-lasting, sturdy rod, choose a graphite core, graphite blend, or carbon-wrapped blank. Older poles were made of cane, hollow composites, or fiberglass. New technologies have allowed kayak rods to become longer, stronger, and more lightweight than the old ones. As lines continue to develop over time, line guides also become a factor to consider. Smooth, slick inserts help braided lines and fluorocarbons flow better, allowing for longer and more accurate casts when kayak fishing.
RECOMMENDATION: An ultralight rod is usually more fragile than a moderate or medium rod, but the Daiwa Presso Ultralight stands up to bending and flexing without a problem. The strong graphite blank and two coats of protective resin create a strong but limber rod that's great for kayak fishing.
Rod Price
Rods can range in price from $20 to $2000. If this is your first-time kayak fishing, don't take your most expensive rod out. The best kayak fishing rods are relatively cheap. Grab a $20 Shakespeare and a cheap spinning reel until you get the hang of it. A higher price doesn't always mean better. A $19.97 combo from Walmart can perform great if you use it with the right line and bait.
RECOMMENDATION: The Plussino telescopic rod matches value and quality. The sturdy carbon fiber rod has all the great features of some of the larger and more expensive rods at half the cost. For less than $50, you can't beat Plussino's Rod and Reel set, which includes a 12:1 open-faced spinning reel.
Final Thoughts on the Best Kayak Fishing Rod
If you have never fished from a kayak, it is a new experience. Casting and reeling from a seated position when kayak fishing requires a different set of movements than stand-up fishing. You can practice by sitting on a low surface in the backyard with a practice weight on your line. Get out on the water a few times in a friend's kayak, and you are on your way to becoming a seasoned kayak angler.
A few problems you may run into while kayak fishing is how to handle the rod and your paddle and how to avoid everything becoming tangled since the kayak has so many lines and cords coming off of it. Landing a fish can also be a challenge when in a kayak.
Here are a few helpful tips:
Use a paddle leash or a paddle clip.
Anchor your kayak to fish unless you are trolling.
Know your limits and be real about your capabilities.
Always wear your PFD-Always! Even the best kayak can flip.
If the line is snagged, cut it. You can always replace a lure or fishing gear. You can't replace your life if you flip and run into trouble.
If the fish is too big to safely bring in, cut the line. It sucks, but it's better to be safe than sorry.
Use a short handle net rather than extending your weight over one side of the boat to land the fish.
Rod holders are a great addition to your kayak. Either buy the add-on attachments or invest in a fishing crate with rod holders to store your fishing gear.
Know the body of water. This is a must, even when you are not fishing. A submerged stump or rock can be dangerous if you are not watching for it.
If you do flip, let go of the paddle and the fishing rod. Your primary focus is safe re-entry.
As with any type of fishing, preparation is key to success. Do your research before you head out. Have the proper license. Know the species and limits. Study maps and read reviews of the water body you plan to fish.
Choose your kayak fishing rods on what you are fishing for, just as you would any other time. An ultralight makes fishing fun but limits what you can catch. A heavy, slow rod won't work well for pan fish in lakes or ponds, whereas light or medium works great.
Always use the recommended line test and lure weight for your kayak fishing rods. These are written on the pole right above the handle. Also, take time to match the fishing reel to the rod in terms of action and capacity, so you have the right rod for your fishing needs.
We are sorry that this post was not useful for you!
Let us improve this post!
Tell us how we can improve this post?