As one of the top names in fishing electronics, Garmin goes above and beyond when it comes to high-quality fish finders that are suitable for use by professionals and beginners alike. Garmin focuses on the most necessary components as well as some extra features to give you an edge when fishing with any of its products.
Here, we will take a closer look at a variety of different Garmin fish finder models and let you know how they compare to each other when it comes to pricing, features, compatibility, and ease of use.
Best Garmin Fish Finder: Quick Picks
Best Overall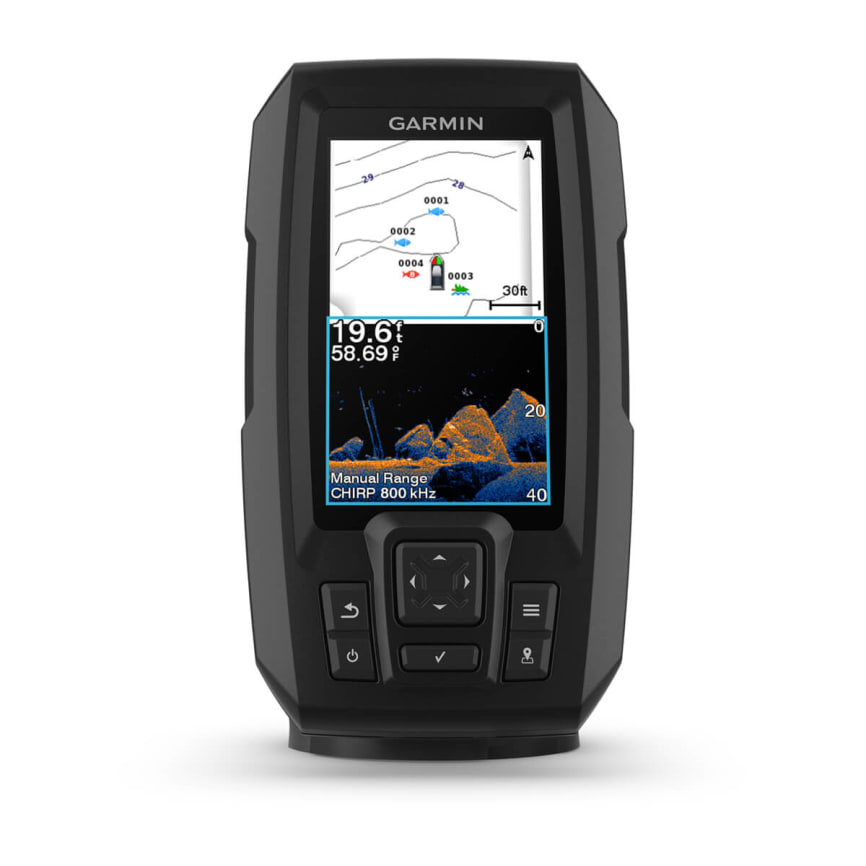 With an outstanding mix of high-quality CHIRP sonar, GPS technology, various screen sizes, and custom color palettes, this fish finder GPS combo is our favorite overall fish finder technology.
Best for Kayak or Small Boat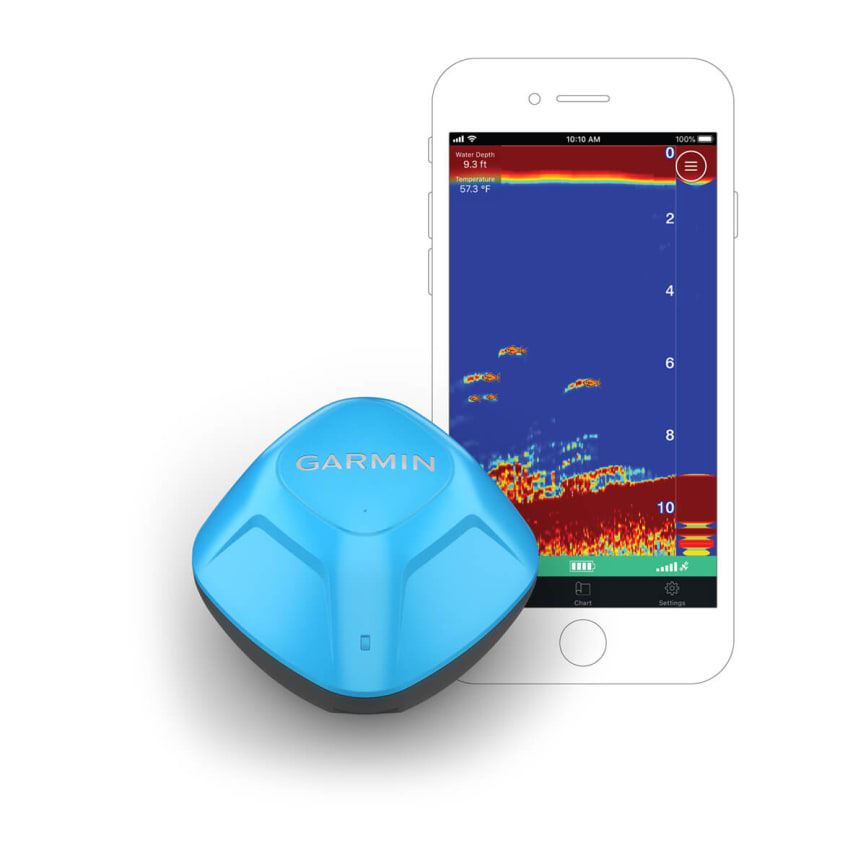 The scanning sonar on the Striker Cast series is great for shore anglers that want a simple GPS fishfinder to locate more fish easily. This compact fish finder is durable and affordable for beginners and experienced anglers alike.
Best Budget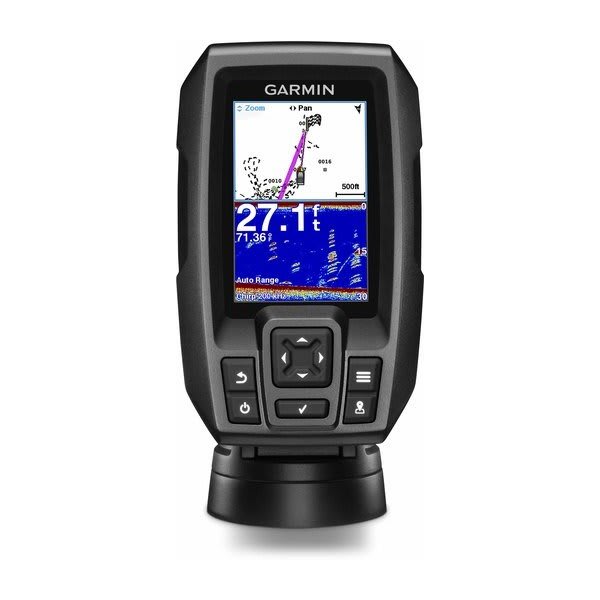 This affordable fish finder is a robust scanning sonar for ocean fishing, lake fishing, ice fishing, and more. You'll be able to locate fish quickly and easily while kayak fishing, freshwater fishing, or out on open water.
Best Garmin Fish Finder Choices: Full Reviews
Garmin Striker Series
Sonar Capabilities
The Striker series of sonar provides extremely clear and detailed sonar when viewing both underwater structures and fish. The transducer with these models runs at up to 200 kHz with CHIRP sonar to provide a wide range of detailed information about your favorite fishing location.
With CHIRP you will be able to view very detailed and crisp-looking fish arches, as well as high levels of target separation. This can be easy to distinguish for both beginners and intermediate sonar users, giving you a leg up when it comes to locating schools of fish or lone trophy bass.
Mapping/GPS Capabilities
The Striker series of Garmin fish finders also has built-in GPS, but not just your basic-level GPS. Instead, Garmin puts a focus on providing high sensitivity and very accurate GPS location to precisely update your waypoints no matter where you go on the lake or reservoir.
You'll be able to mark not only your current location or specific pathing on the included maps, but you can precisely mark docks, boat ramps, heavy cover areas, sunken structures, boat hazards, and prime fishing spots to return to at a later date.
The Striker series is so accurate, it lets you set waypoints, routes, paths, and more so you can get to your favorite fishing spot, back to the docks or boat ramps, or set your trolling motor to do the navigating for you. 
Features
Extremely accurate GPS locating
Very accurate target separation
Robust CHIRP sonar for clear images
Best for …
The Striker series is the perfect all-in-one unit for the average lake fisherman. It also has a built-in flasher system making it a viable choice for ice fishing anglers too. If you love fishing in muddy or heavily stained water, the Striker series can still give you a clear view of your weighted bait or jig to let you know if fish are moving towards or away from it.
If you love portability, the Striker series can be great for smaller vessels, canoes, or kayaks. It's robust and durable, making it suitable for angler that loves traveling at high speed to their next fishing location.
Our Score
When it comes to both versatility and portability, the Striker series is one of the best fish finders you could use. This Garmin fishfinder uses a robust CHIRP sonar to give you crystal-clear images of fish below your boat or kayak.
The easy-to-mount electronics can be set up on the dash of a boat, used on a kayak or canoe, or can be ported around to specific shore fishing spots with a gimbal mount.
This Garmin fish finder is easy to use and won't require hours of learning the user interface, making it great for beginners and experienced anglers alike.
Garmin Striker Plus Series
Sonar Capabilities
The Striker Plus series is one step up from the original Striker series. It still uses the traditional CHIRP sonar, but also adds in CHIRP ClearVu and SideVu patented technology to give you crystal clear images of fish all around your boat.
With the Striker Plus series, you won't just see crisp fish marks and shadowed silhouettes, you will instead get almost photographic images of fish and other aquatic life directly below your boat, as well as off to the sides.
The Striker Plus series can give you a great look at schools of fish, single lunkers, sunken structures, terrain changes, drop-offs, and even some underwater hazards to watch out for. The target separation is outstanding with the Striker Plus series, making it the best choice for the angler that wants a bit more versatility in their fish finder.
Mapping/GPS Capabilities
Like the original Striker series, the Striker Plus offers very precise and highly sensitive GPS mapping to let you know your exact location right down to the square foot. You won't be left guessing if you're in the right spot or not when comparing your GPS location to a map of a fishing hotspot.
Additionally, you'll get the added benefit of built-in mapping software on the Striker Plus series. The Quickdraw Contours software creates and stores millions of acres worth of underwater terrain, waterways, reservoirs, and beaches to give you a clear view of where fish might be hiding.
You'll see clear and detailed contour maps so you know depth and terrain information, as well as where drop-offs, ledges, and more might be found. When looking for that next trophy fish, this information can give you a true leg up over the competition at your next fishing tournament.
Features
Highly sensitive and precise GPS location tracking
Built-in mapping software known as Quickdraw Contours
Extremely quick and easy to install on boats of all sizes
Best for …
Like the original Striker series, the Striker Plus is built with durability in mind. It's able to withstand extremely harsh environments and heavy vibrations, and includes extremely precise GPS mapping and pinpointing.
The various mounting options let you install this Garmin fish finder at an angle or straight on, whether you place it on a dash, transom, or other location on your vessel. Additionally, you can find flush mounts for dash installation that make it look like an original component of your vessel.
Our Score
With a focus on durability, the Striker Plus series is great for anglers that love fishing on quickly flowing rivers, large waves on the ocean, or in areas where vibrations are common from your engine or trolling motor.
This Garmin fish finder uses CHIRP sonar for both down and side views so you can easily pinpoint single fish and schools of fish around your boat, or off to the sides near the shore.
The mapping capabilities are robust, giving you plenty of options for waypointing with the built-in Quickdraw Contours software. This is perfect for anglers that love setting up paths or routes to several favorite fishing spots.
Garmin Striker Vivid Series
Sonar Capabilities
With highly vivid and heavily enhanced sonar, the Striker Vivid series from Garmin offers a range of display colors and variables to suit your needs. Being able to adjust your own color palette of the sonar can make viewing and identifying schools of fish and underwater structures.
Being able to adjust the color palette also makes your display and sonar relay easier to identify in different lighting. There are preset color settings for daylight viewing, reducing eye strain, viewing when in heavy cover or shade, and adjusting the bottom terrain and contours.
In addition to the unique color adjustment capabilities, the Striker Vivid series makes use of CHIRP traditional sonar, as most Garmin fish finders do. The scanning technology includes both ClearVu and SideVu technology to give you crystal-clear images of fish arches, schools, sunken structures, heavy vegetation, and bottom contours.
Mapping/GPS Capabilities
Like most Garmin technology, the Striker Vivid series offers the same high-quality and super-sensitive GPS. Not only can you see accurate locations for fishing spots and routes around the lake, but you can also view the precise location of docks, sunken stumps, and more.
For mapping, the Striker Vivid series includes the Quickdraw Contours software. This offers unrivaled details for waypoint charts and mapmaking to set your own paths to and from your favorite fishing areas. The software can store more than 2 million acres worth of lakes and waterways, with an accuracy of 1 foot when it comes to bottom contours.
Features
Highly accurate Quickdraw Contours mapping
Easily adjustable color palette for sonar display
Vivid series includes 4, 5, 7, or 9-inch displays
Best for …
Being another highly rugged option from Garmin, the Striker Vivid series is great for saltwater fishing as well as freshwater. It includes secure housing and gaskets to prevent water damage inside, even on high waves or river rapids.
This Garmin fish finder is perfect for anglers that want a quick and accurate CHIRP sonar result, without the hassle of learning how to read confusing user interfaces or wrestle with settings. You'll have no trouble attaching this Garmin fish finder to a variety of smaller vessels including bass boats or aluminum rafts with the swivel and tilt mounting options.
Our Score
Perfect for an angler that finds themselves on the water throughout different times of day and different seasons where lighting can change from extremely bright direct sunlight to heavily shaded or overcast clouded skies.
The Striker Vivid offers a unique color palette that you can choose from to make viewing your sonar display easier no matter what type of lighting you may be fishing in.
The Striker Vivid series also offers a wide range of display sizes from 4 to 9 inches, giving you a choice of screens to get the best view of fish around your favorite fishing location.
Garmin Cast Series
Sonar Capabilities
Making use of a 9 x 14 degree, and 22 by 63-degree sonar cone, this castable fish finder can deliver outstanding results from the 260 and 455 kHz frequencies. Whether you are looking for better target separation and a smaller coverage, or clear images over a wide coverage, this little fish finder can deliver it.
The Striker Cast series is best for water less than 150 feet deep, such as when ice fishing, and does even better in less than 100 feet water depth. This makes it an outstanding choice for rivers and creeks, or ponds and smaller lakes.
Mapping/GPS Capabilities
While you might not expect much from a castable sonar, the Striker Cast can truly surprise you whether you are ice fishing or enjoying summertime fishing. The mapping in this small fish finder is as powerful as mapping that can be found in fish finders more than twice the price.
While you won't be able to track specific routes along the waterways, you can set waypoints to your favorite ice fishing spots, the boat ramp, or the docks. In addition, you can make use of the Quickdraw Contours software which provides a wide range of custom maps to help you navigate around both familiar and unfamiliar waters.
Features
Compact and highly portable fish finder unit for ice fishing
Very affordable price with traditional CHIRP sonar technology
Pairs with your smartphone or tablet easily to help you find fish
Best for …
If you love spending your time on the lake in a small kayak or canoe, or prefer to keep your feet on solid ground and fish from a dock or the shore, this fish finder is the perfect one for you thanks to its small and compact size, lightweight yet durable construction, and robust sonar and GPS.
Our Score
For any anglers that simply don't want to invest several hundred dollars into a fish finder that needs to be mounted to the dash or transom of a boat, the Striker Cast is the perfect answer.
As castable fish finders go, it's inexpensive and offers a range of features you can find in the more expensive units including robust traditional sonar, Quickdraw Contours software, and accurate GPS.
This fish finder pairs with your smartphone or tablet, so you won't need to invest in a separate display and find a mounting spot for it on your vessel when you simply want to find fish.
About Garmin
Originally started in 1983 for GPS electronics and sonar technology, Garmin started off its life under the name ProNav. By 1989, the name Garmin started being used in honor of the two owners, Gary Burnell and Min Kao.
In 1991, Garmin obtained the United States Army as one of their first major customers for various GPS devices and sonar technology. By 1999, the company had reached a level of $233 million in sales, and by 2006 it had hit more than $1.7 billion.
With its multiple different electronics, Garmin holds more than 35 patents and employs more than 1,000 people in three different countries.
Garmin Fish Finder FAQs
Are Garmin Fish Finders Cheap?
While not the cheapest fish-finding technology on the market, Garmin does have a variety of budget-friendly options for beginning anglers to get their hands on. In addition to entry-level electronics for normal and ice fishing, Garmin also has several top-of-the-line models which can run into the thousands of dollars price range with some of the best fish finders features around.
Are Garmin Fish Finders as Good as Lowrance and Humminbird?
While each brand has its top models to help you find fish, Garmin has a variety of easy-to-use and quick-to-adjust settings. You'll be able to use many of their fish finders right out of the box without having a drastic learning curve with a confusing UI or settings.
What Transducers Do Garmin Fish Finders Use?
Most Garmin fish finders use the GT56 UHD transducer. This durable fish finder transducer provides high-quality and high-definition images as well as highly accurate water temperature and depth readings.
Are Garmin Fish Finders Compatible With Trolling Motors?
Most Garmin fishfinders including their Echomap models with a 4-pin port can be used with trolling motors. Be sure to check your fish finder's box to see if it is compatible with a trolling motor or not since it will usually say.
Did Garmin Phase Out the Echomap Fish Finder Series?
Over the years, as technology advances and more features are created and added to fish finders, certain models such as the Echomap might be phased out or recreated as a newer variety. While the Echomap is still around, old original models may be harder to update since Garmin has moved on to the phase 2 line of Echomap electronics.
We are sorry that this post was not useful for you!
Let us improve this post!
Tell us how we can improve this post?